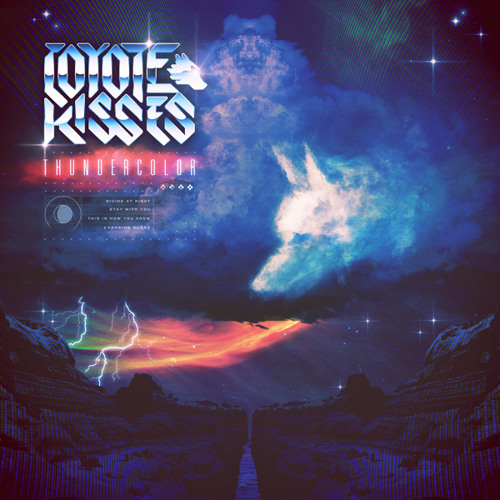 Coyote Kisses - Thundercolor (EP)
Release Date:
2013-05-05
Label(s):
SoMeta Records
Genre(s):
Electronica (Glitchstep)
Track List
1. Diving at Night (2:40)
2. Stay With You (4:19)
3. This Is How You Know (5:02)
4. Changing Guard (4:11)
Coyote Kisses crept onto the electronic dance music platform with their melodic electronica track
"Acid Wolfpack"
a combined synth and electro medley. As ear-pleasing as the track was, releases from Coyote Kisses were few and far between. Their new album
Thundercolor
marks their first multi-track effort and definitely worth the listen.
When first listening
you can easily hear the creativity behind each track. The four songs have a distinctive sound that makes it hard to put them collectively in an electronic sub-genre. Rather, each track is simply a 'Coyote Kisses track.'
"Diving at Night"
is a slow-rising introduction sounding a lot like an 80's theme. It features a small glimpse into what is to come without committing to a full-length track.
The meat of this release are the two middle tracks.
The driving excellence of
Thundercolor
is its use of vocal distortions. The combination of the vocal range and the mysteriousness of the lyrics (as it's often too split to understand) makes the vocals float like a harmonious ghost. The song's are strong by themselves, but this addition leaves a lasting impression in the listener's ear. "Stay With You" is a powerful fusion of female vocal riffs and a glitch jam; a very strong song. "This is How You Know" follows suit, another strong track. Here the vocals are male with a bouncy pop feel leaving a happy feeling everytime I listen. Both tracks are some of the strongest I've heard all year, and perhaps in a while. You can be sure they'll be making an appearance on the top tracks by year's end.
"Changing Guard" is also in the same vein as the intro with a slowly 80's style progressing melody. There's a lot to like, but it is not your typical electronica track. It has an end-credits feel with rising guitar riffs that remind me of Top Gun. It makes a fitting conclusion to an epic set. As one of my favorite releases of the year this album is not to be missed.
Grade: A+
You can nab Thundercolor electronically at Beatport.